Do you crave lip-smacking best Japanese food, or are you a diehard fan of this cuisine? It would be best to read about this top traditional food list curated for Japanese cuisine lovers.
Japanese food is getting appreciation worldwide and has become one of the most popular cuisines. The authentic taste with high-quality ingredients makes it incredibly delicious and presentable in the cuisine world.
Traditional Japanese food contains seafood, steamed rice, raw or grilled fish and vegetables. The specialty of traditional Japanese food is its authenticity, unique flavours and innovative presentation.
The eating habits and presentation of Japanese food make this cuisine relatively more popular than any other regional cuisine.
Best Traditional Japanese Foods To Try!!!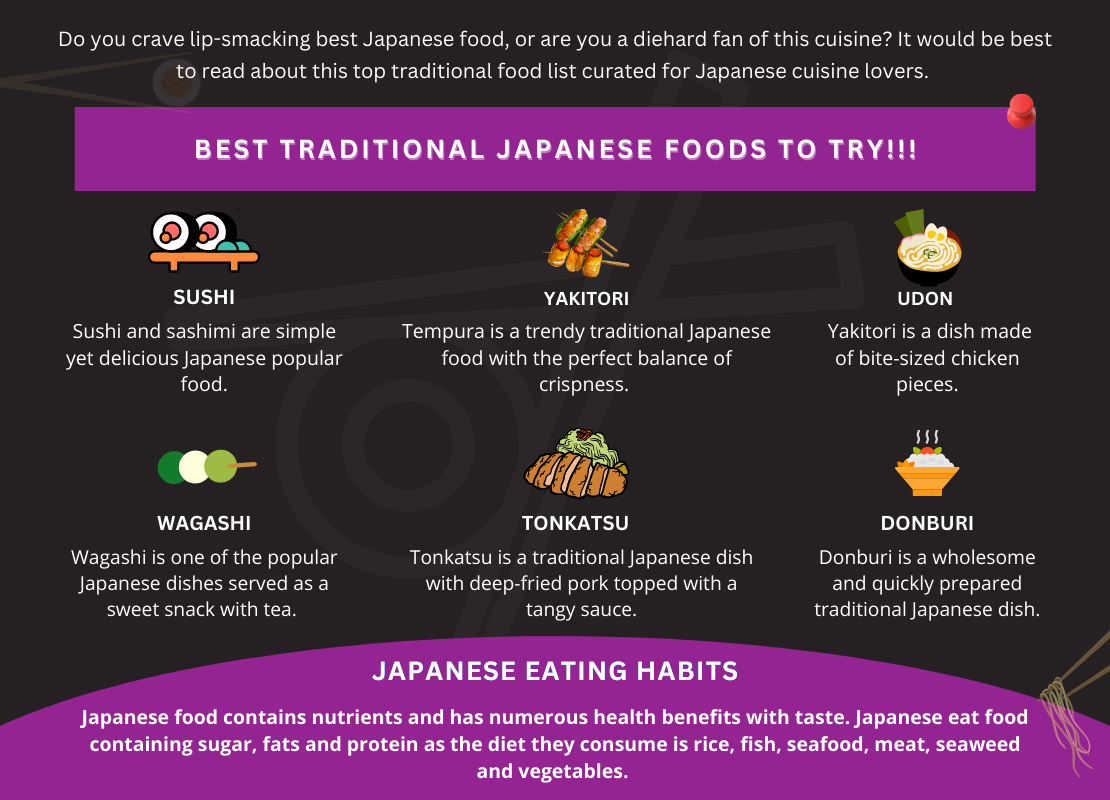 Let's quickly have a look at the top 10 best traditional Japanese dishes you must try:
Sushi: Sushi and sashimi are simple yet delicious Japanese popular food. Sashimi is a freshly sliced fish that is served with seasoned rice cooked in vinegar and vegetables.
Authentic Sushi is an ancient dish created from preserving fish in fermented rice. Sweet vinegar seasoned rice is used with various ingredients and covered with different kinds of fish, primarily raw.

Tempura: Tempura is a trendy traditional Japanese food with the perfect balance of crispness and flavour.
Tempura is crispy deep-fried seafood with vegetables or meat, with special mixed sauce. To make this tasty tempura dish, prepare a batter with flour and egg, then add seafood or vegetables of your preference and deep-fry.
The balance of ingredients should be precise, and the temperature of the batter has to be cold.

Yakitori: Yakitori is a dish made of bite-sized chicken pieces. The sweet and sour chicken is grilled on a skewer with a mixture of different flavours.
The dish includes all the chicken parts, such as its heart, liver, and skin, as they believe in zero waste. Yakitori is a traditional Japanese food that has been eaten since the 17th century.

Udon: udon is made from wheat flour with thick and dense chewy noodles and is one of the most famous Japanese dishes. Udon can be eaten hot or cold depending on one's taste. It is served with different kinds of ingredients and broth. Udon is made of fresh ingredients and contains a low level of sodium which ultimately is healthier for health.

Sukiyaki: sukiyaki is a traditional Japanese hot pot dish served with beef in sukiyaki broth, made of sweet soy sauce, mirin rice wine, which gives a rich flavour to this dish. Sukiyaki ingredients also include tofu, noodles and vegetables according to one's taste.

Tonkatsu: Tonkatsu is a traditional Japanese dish with deep-fried pork topped with a sweet and tangy sauce. This sauce is made of soy sauce, ketchup and Dijon mustard which tastes similar to barbecue sauce. This crispy, perfectly browned tonkatsu is served with vegetables.

Wagashi: Wagashi is one of the popular Japanese dishes served as a sweet snack with tea. This Japanese confection is usually enjoyed with green tea. Wagashi is made with soybean flour filled with red bean paste and designed as artwork to celebrate Japanese culture. Wagashi has been serving in Tokyo since 1931.

Okonomiyaki: This Japanese dish should be on your list of must-try food. The ingredients commonly used are green onion, seafood or beef. Okonomiyaki is a Japanese pancake cooked on a griddle; okonomiyaki means grill as much as you like.

Donburi: Donburi is a wholesome and straightforward, quickly prepared traditional Japanese dish. This dish contains a bowl of rice served with cooked meat or vegetables. Donburi is considered the most appropriate lunch for a working professional as it includes all the necessary protein. It is made of different ingredients like chicken and egg or served with sliced beef.

Chawanmushi: chawanmushi is full of flavours that satisfy your taste buds with its uniqueness. Chawanmushi means teacup steam. It can be served both hot and cold depending on the season it is being served in.
This delicious savoury dish involves beating an egg into a cup with mushroom, fish cake or chicken and steaming it to make an egg custard dish. However, the ingredients can be changed according to your preference.
After reading the long list of traditional Japanese food, let us quickly have an overview of some Japanese food eating habits:
Japanese Eating Habits:
Japanese food contains nutrients and has numerous health benefits with taste. Japanese eat food containing sugar, fats and protein as the diet they consume is rice, fish, seafood, meat, seaweed and vegetables. Diet is the most critical aspect for them and their eating habits and etiquettes.
They take their breakfast adequately as it is the most important meal of the day for them. Breakfast includes rice, soup, egg fish and other side dishes to have energy for the whole day.
They consume rice in every meal as a source of carbohydrates and avoid junk food; this helps them to remain fit and healthy. They use traditional cooking methods such as grilling, steaming and using vegetable broth. Not only do they use fresh ingredients for cooking, but they make the dish light and nutritious.
For Japanese people eating is like a ritual, and they have a different kind of love for their traditional food.
Conclusion:
Without a doubt, after reading about these mouth-tempting Japanese dishes, you must be eager to try them out. The exclusive blend of herbs and spices with the enchanting aroma of Japanese food will leave you fascinating.
Dive into these fantastic Japanese food recipes full of flavour, uniqueness, and traditions that define their culture.
If you are an authentic Japanese food lover, you must visit www.senzushi.com/menu Have a look at the fantastic and exotic Japanese dishes SEN ZUSHI has to serve you on the platter. SEN ZUSHI is considered to be one of the best Japanese restaurants in the entire region.
Feel free to contact us and drop your queries at senzushi@hotmail.co.jp and dive into the amusement of Japanese food.